G2E ASIA 2013
Come and visit us on the 22nd and 23rd May on Booth number 452. For the first time at G2E Asia - we will be exhibiting with our Parent Company Esterline.
We look forward to seeing you there.
---
Gamesman acquired by Esterline Corporation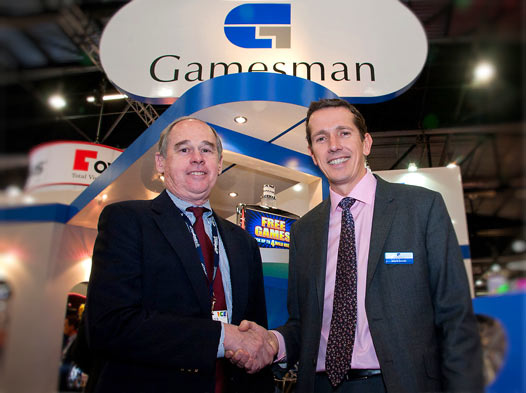 Dennis Staver of Esterline with Gamesman Managing Director Mark Smith

Esterline Corporation, a leading speciality manufacturer serving aerospace, defence and industrial markets, has announced that its Interface Technologies business platform has acquired Gamesman Limited, the privately held gaming equipment components and systems manufacturer. Like Esterline, Gamesman produces advanced touch panel displays, programmable button decks, mechanical buttons and other key components for leading OEM gaming system manufacturers worldwide. The company holds multiple technology patents and operates facilities in Europe, North America and China.
Mark Smith, who will continue to serve as managing director of Gamesman, said: "I am delighted to have completed the agreement with Esterline, and to be part of an organisation which shares the same principles of product innovation and commitment to customer service. "We will continue to apply those core principles to our gaming business, and look forward to delivering new and relevant innovations gained from our combined research and development effort. I am grateful to our partnered customers and suppliers for their continued support as we embark on the next exciting chapter in the life of the company."
Esterline Interface Technologies is a global group of companies specialising in the design and manufacture of innovative touch,
sensing, and control human interface systems for leading original equipment manufacturers, defining the user experience for specialised medical equipment, advanced military and security solutions, industrial equipment, high tech gaming applications, and custom designed input components.
Reproduced with permission from Coinslot International / Picture courtesy of Coinslot International

---
GT4000 and GT4010 Toppers
The exciting new GT4000 and GT4010 Toppers are now available to order from Gamesman. The GT4000 features a large 18.5" LCD while the GT4010 has LED backlighting for vibrant artwork illumination. Both models feature controllable RGB LED edge lighting.
Contact Gamesman for full specifications and prices: sales@gamesman.co.uk
---
GPB1200 Series
Gamesman have released the first two shapes in their highly anticipated 1200 series button range.
The GPB1270 and GPB1290 are a large square and a large round push button with excellent new features not previously seen before. With the ability to use either a large AWP style switch or a smaller Casino style switch, both buttons can be purchased with optional chrome bezels and have striking "halo" features.

The GPB1270 and GPB1290 are the first in a number of different shapes being released in the coming months. Keep checking back for further release dates
.
For further information about the 1200 series please contact Gamesman: sales@gamesman.co.uk
---